Landscape Lighting Installation Serving Tampa, Temple Terrace, Westchase & Neighboring Cities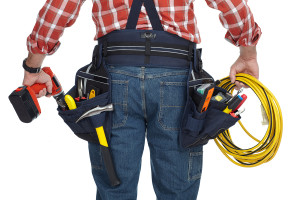 Let Brandon Electric help you transform the look and feel of the outside of your business or home. Our highly trained and experienced electricians are experts at landscape lighting installation and seek to enhance both the ambiance and security of your property. Our commercial electrician will work with you to discuss options, such as uplighting, downlighting, path lighting, washing lighting and grazing lighting.
Our landscape lighting products work great and look great, even years after they've been installed. If you hope to conserve power, we recommend using low voltage lighting, which is run on 12 volts and produced by a transformer, but if you want to light up a small or large area, we'll often put lights on their own circuit. This might use a little more power, but with the advent of LEDs (Light Emitting Diodes), we'll make sure that your landscape lighting installation is practical and efficient. Ask our commercial electrician about specimen uplighting, pathway lighting, outdoor garden lighting, driveway lighting, safety lighting, outdoor solar lighting, or pool, spa, dock, deck, and pool lighting.
We can also pin point your desired voltage level and help you decided if you'd like lower voltage (12 volt) or line voltage (120 volt). The advantages of low voltage are the shallow cable depth, the smaller fixtures allow less visibility, and a lower power supply can reduce the risk of an electric shock. Line voltage, on the other hand, gives you a higher maximum lamp wattage in your fixtures, creates brilliant illumination for far distances or tall trees and accommodates a larger lighting area.
Schedule Your Landscape Lighting Installation Services Today
Contact Brandon Electric to schedule an appointment today for a landscape lighting installation or to hire our commercial electrician. We're happy to serve Tampa, Temple Terrace, Westchase, South Tampa, Wesley Chapel and the neighboring cities.