Commercial Electrician Serving Central FL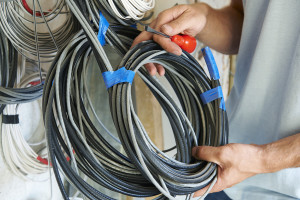 Brandon Electric is proud of our highly skilled commercial electrician, who is always standing by to install or troubleshoot electrical repairs. A highly trained employee and valued member of our family owned and operated company, which has almost 20 years of experience in the Tampa Bay area, our commercial electrician can perform the following services and more:
A commercial electrician has in-depth familiarity with electrical code, and while they deal primarily with 110v, they are also proficient with higher voltage systems that are often used in air conditioning, ventilation and heating.
An electrician can diagram and plan electrical systems, including the pipe or tubing conduits that are most frequently required by regional electrical codes. They also work with blueprints furnished by electrical contractors to run electrical wiring and install conduits.
They can wire the instruments that control the heating, power and lighting units in buildings. Using ohmmeters and electrical test meters, they will verify wiring continuity to ensure component safety and compatibility. Tests are also performed to locate system breaks and shorts.
A commercial electrician works with a wide variety of hand tools including knives, pliers, screwdrivers and more. They are also adept in using heavier equipment, test meters, power tools, conduit benders and pipe threaders.
Our electrician understands the principles of pneumatics and hydraulics, uses magnetic motor controls and programmable logic controllers and is skilled in installing alarm systems and circuits.
Our electrician can detect and repair problems caused by water leakage by using trace gas techniques. They can also install surveillance cameras, monitoring systems, control rooms and motion detectors and will work hand in hand with electrical contractors to get the job done quickly and done right.
Speak to a Skilled Commercial Electrician Near You
As a winner of Angie's List Super Service Award for 5 years in a row and maintaining an A+ rating with the Better Business Bureau, the choice among electrical contractors is clear. Brandon Electric always offers up-front pricing, so contact us today to schedule an appointment or a consultation with a commercial electrician. We are happy to serve Tampa, South Tampa, Carrollwood, Wesley Chapel, Lutz and the neighboring areas.