Ceiling fans of all types and sizes are installed by Brandon Electric Inc. All of our installations are connected to properly braced fan boxes. Fans are also balanced to avoid wobbling. When it comes to installing new lighting and upgrading to LED the customer has many choices. We can give you options and information to help make your decision. When buying a ceiling fan make sure it is reversible if you want to use it in the summer to make you feel cooler and in the winter to better circulate the air. Also look for the Energy star to save on electricity.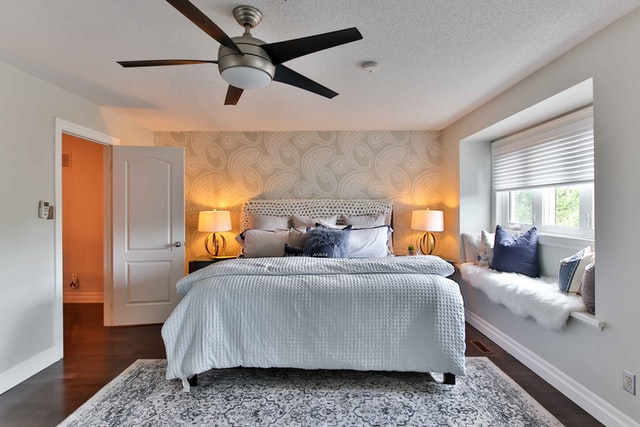 Ceiling Fans
Ceiling fan improves how you feel and can help circulate the air more evenly. Helping with cooling in summer and heating in winter. With a reversible fan you flip a switch and it will circulate in the opposite direction pushing the hot air trapped at the ceiling over to walls and down to the floor to start radiating upwards again.

Making sure your new fan is installed to a heavy duty light/fan box is important for a safe operation. A fan at full speed increases the load capacity it puts on the electrical box in the ceiling. having that box properly supported is very important.

Most of the newer homes in our area come with the correct fan boxes in areas where it is common to install a ceiling fan. Our electrician would explain to you the type of box you have and if it is capable of supporting your new fan.

Placement of your fan in a large room with vaulted ceilings is also important. Our electrician will point out your options and give his recommendation.
Lighting
Installing new lighting or repairing your existing lighting can enhance the look of your home. Our electrician will meet with you and go over your needs and make suggestions to any concerns you have.

Lighting has come a long way over the past few years especially with the introduction to LED and its advancements. Price has also come down due to the wide spread use.

The electrician can offer you choices when it comes to the color of the light and its dimming capabilities.
Lighting in general can come in a variety of different white light spectrum.

Your electrician can also explain the difference in a low maintenance energy efficient lighting fixture and the standard type of lighting fixtures and the savings difference.