Landscape Lighting Installation in Tampa, Oldsmar, Pebble Creek & Beyond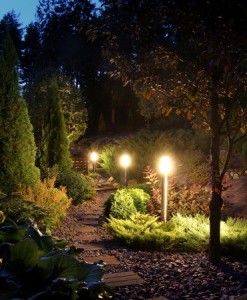 Landscape lights can greatly improve your property appeal, value, and security. Landscape lighting installation is a service that requires electricians to have extensive knowledge and training for many reasons. Proper landscape lighting installation training will ensure electricians verify the lighting is safe to use, provide the best options available based on your property and needs and use techniques to help reduce lighting costs in the long run. At Brandon Electric, our electricians are prepared to evaluate your property to assist you in selecting the best type of landscape lighting for your unique needs.
Landscape lighting systems are limited to the following types:
12V: System requires a transformer to be installed in order to power the lights. The wire used in the installation process must be buried to a specified depth for security purposes. Maintenance is simple since 12V lighting does not present an electrical hazard.
120V: System requires wiring to be buried much deeper than wiring in a 12V lighting system. Benefits to 120V lighting include ability to use higher wattage bulbs for brighter illumination and more.
You can also customize your outdoor lighting with unique styles. Our electricians will work with you during the entire planning process to design stylish lighting. Regardless of the style, you have the ability to control your lighting with a typical light switch or make it automated. You can also choose between spots or flood lights. Spots lights direct their light to a specific object, whereas flood lights illuminate a larger area of your property.
Depending on your unique goals for your landscape lighting system, our electricians will recommend lights with varying wattages. Higher or lower wattages can increase or decrease the brightness of your lights, affecting visibility and overall mood of your outdoor area. Whether you are looking to add lighting for entertainment or security purposes, our electricians will address which wattage is best for your landscape lighting system.
We have been committed to our community for many generations and have built our reputation based on excellent workmanship and reasonable prices. We proudly serve those located in Tampa, Oldsmar, Pebble Creek, South Tampa, Apollo Beach and beyond. If you are looking to begin planning a landscape lighting installation, contact us to schedule an appointment with one of our electricians.