Electrical Wiring for Those in Central FL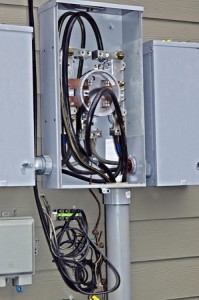 If you suspect you need an upgrade to your electrical wiring or require new wire placements, there's no need to conduct a search for an electrician near me. Simply reach out to the qualified team at Brandon Electric for all of your electrical needs.
Electrical wiring can refer to both the actual electrical wiring and their corresponding meters, switches and other associated electrical components. Your Brandon Electric electrician will ensure that your wiring is up-to-code and safe in all respects. They will make sure that your lines are running the appropriate voltage and can sustain any currents your building needs.
Signs that you need a wiring upgrade include:
Hot outlets
If your outlets and switch plates are hot to the touch, it is wise to contact an electrician. Outlets should not be hot, even if they are producing electricity for appliances and other items. Unplug any devices and wait to see if the outlets cool down. If they remain hot, be careful about using these outlets until you can confirm the wiring is properly installed.
Breakers Tripping
If your breakers are frequently tripping and/or you find that you are going through fuses at an alarming rate, it may be necessary to have your wiring checked. While appliances can oftentimes cause a breaker to trip, your circuit may be overloaded if you experience frequent blown fuses.
Loud, Odor-Producing Outlets
Your outlets should not make noises or produce any odors. If you notice a loud buzzing sound, your outlets and other electrical components could be loose, which can pose a danger if not addressed. In addition, your outlets should not produce any odors, such as a burning smell.
At Brandon Electric, we will come to your home or business to provide a complimentary consultation and evaluate what, if any, services you may need to keep your electrical wiring safe and efficient. We will always provide you with upfront pricing prior to initiating any agreed upon work, and our team will always conduct themselves in a friendly and professional manner.
Hire the Best Electrical Contractors for Your Electrical Wiring Jobs
Don't waste time searching for an electrician near me. Contact Brandon Electric today for all of your electrical wiring, service, repair and installation needs. We proudly serve Tampa, Thonotosassa, Fish Hawk, Oldsmar, Lake Fern and the surrounding cities, and our team looks forward to providing you with the exceptional service we are known for.