Garden Lights in Tampa, South Tampa, Wesley Chapel & Neighboring Regions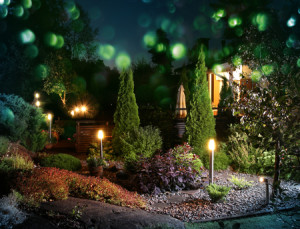 At Brandon Electric, we have been sprucing up the curb appeal of homes and business for over 30 years. Family owned and operated, we pride ourselves on our superior workmanship and unwavering commitment to excellence, and we can help you transform the exterior of your home or business with garden lights, LED outdoor lighting, landscape lighting and more.
Garden lights and other outdoor landscape lights can add style and class to any outdoor space and allow you to focus attention on the best parts of your property. By adding spotlights on your best plants, flowers, shrubbery and architectural features, you can create an outdoor space that your family or customers can enjoy for years to come. In addition, garden lights can make your home or commercial property more appealing to buyers when it comes time to sell, and, when expertly installed by the licensed, bonded and insured technicians from Brandon Electric, outdoor landscape lighting can even increase the selling price of your home or business.
Additional benefits to LED outdoor lighting installations include:
Added Security: By adding LED lighting to the exterior of your home and/or around your property, you can help deter would-be criminals from seeing your property as a prime target.
Low Maintenance: LED lights last longer than most standard lighting systems, with some boasting 50,000 hours or more of continued use, and because of this, they require little to no maintenance.
Decreased Energy Costs: LED lights also require minimal energy to operate, so energy costs will stay low - saving you money.
At Brandon Electric, our rates our affordable, and our workmanship speaks for itself. With an A+ Rating from the Better Business Bureau and high ratings on both Verified Home Services and Home Services Review, your property is in good hands with our skilled and experienced team. If you live in Tampa, Temple Terrace, Westchase, South Tampa, Wesley Chapel or elsewhere throughout Hillsborough County, contact Brandon Electric today to schedule an appointment for garden lights, security lights or any other indoor or outdoor electrical need you may have.