Electrical Maintenance in Tampa & Throughout Central Florida
Electrical maintenance is important to ensure your home or commercial property is safe, efficient, and up to code. Whether it's been a while since you last had your electrical house wiring inspected or you recently purchased a new commercial space, the experienced electricians at Brandon Electric, Inc. can provide you with thorough maintenance, repairs, installations, replacements, and more. 
There Are Many Reasons to Schedule Electrical Maintenance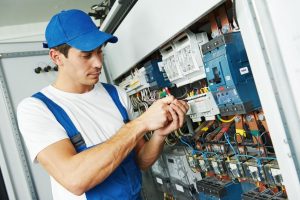 Even the best installed and most up-to-date electrical systems wear down over time. Additionally, the rest of the building's surrounding structure can deteriorate throughout the years, causing stress on the system that wasn't anticipated. Even more often, the electrical demands on the property increase over time, causing the existing system to overload under the new power requirements. In all of the scenarios mentioned above, a quick electrical maintenance service could catch small electrical problems before they cause major issues – or even worse – dangerous situations down the road. 
Your electrical system isn't just a single appliance. Overloading the system can lead to fires in the electrical panel, walls, and other areas throughout the property. With ongoing maintenance inspections, your Brandon Electric, Inc. electrician can inspect your system, evaluate any new power demands, service your electrical panel, check exposed wiring, test wiring, and more. By opting for this simple and affordable service, you can properly care for your electrical house wiring and keep your family safe. 
Commercial Maintenance
Brandon Electric, Inc. can also provide top-quality maintenance for businesses throughout Central Florida. We have vast experience working with commercial businesses of all types and sizes, and we understand the unique needs of commercial electrical customers. 
Every Electrical Service You Could Need
From full installations to simple repairs, Brandon Electric, Inc. can handle it all for both residential and commercial customers. Services include:
If you want to schedule electrical maintenance for your commercial or residential electrical system or need to schedule any other electrical service for your property in Tampa, Lakeland, Riverview, Wesley Chapel, Oldsmar, or other cities throughout Central Florida, contact Brandon Electric, Inc. today.