Ceiling Fan Installation in Clearwater & Nearby Cities
Have you recently purchased new lighting or ceiling fans for your home or business? Are you looking for someone to install your new fixtures? If so, Brandon Electric, Inc. can help. We offer light and ceiling fan installation for homes and businesses throughout Central Florida, and we are one of the highest rated electrical companies in the state.
Ceiling Fan Installation: A Task Best Left to the Pros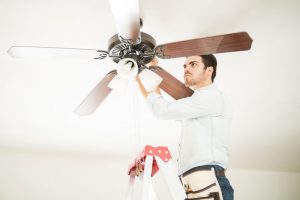 Installing a new ceiling fan, or any lighting fixture, is something best left to the professionals. Working with electricity requires a precise touch, expertise, and training. Without these things, many mishaps, injuries, and mistakes can occur that cost you not only time but money as well. Your Brandon Electric, Inc. technician can ensure the electricity is shut off to your current fixture to help eliminate injuries during installation, or they can help wire the ceiling for the placement of a new fan with minimal damage to your current ceiling or walls. With us by your side, it's easy and affordable to install or replace ceiling fans, lights, and more.
Our Other Top-Rated Electrical Services
At Brandon Electric, Inc., we offer all of the electrical services that you could need to ensure that your property is Powered to Perform. Once you partner with us, you'll never need other electrical companies ever again. Services include the following and more:
We will work closely with you to help you determine what services will best meet your unique needs, and our team will work efficiently to complete your service as soon as possible. We even offer 24/7 emergency repairs to residential and commercial customers!
Brandon Electric, Inc. has served the Central Florida community for decades, and we are proud to be highly rated on Verified Home Services and Home Service Review. We are also a 7-time, consecutive winner of the Angie's List Super Service Award. If you are looking for ceiling fan installation in Tampa, Clearwater, St. Petersburg, Orlando, Winter Park, or beyond, we are the team to trust. Contact us today for more information or to schedule an appointment.