Electrical Contractors Serving Tampa & Surrounding Cities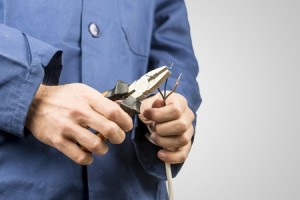 When you are looking for electrical contractors for an electrical breakers repair project, it is important they are certified, bonded and insured. Here at Brandon Electric, we guarantee our clients that our electrical contractors possess the industry knowledge, training, certifications and tools necessary to ensure quality service in accordance with the National Electrical Code (NEC) requirements. It is crucial that you select the best electrical contractors available for all of your electrical projects and repairs.
An electrical breakers repair protects you and your property from electrical shorts or short circuits. There are many types of breakers available. It is required by the NEC that only breakers designated for certain electrical panels be installed inside the panels. The reasoning behind this important code is the UL listing has been approved for that particular installation. Installing the incorrect breaker in your panel will affect the breaker's ability to perform properly and could lead to short circuits. If a breaker continues to have electrical shorts, you may have an electrical issue. When you call Brandon Electric about a breaker or an electrical issue, we will check:
Voltage to ensure the power is good
Amps with a probe to determine the flow of the current or the amount of power used.
Continuity on the line to find any short(s) in the circuit to another conductor.
Before replacing the breaker, our electrical contractors will check to make sure the amps are within the limits for the circuit. They will also turn off all light switches and unplug all cords from outlets to eliminate potential problems. There are a wide range of issues that can cause a breaker to short circuit including a bad breaker, a short being on the line, an overloaded circuit and more. Our electrical contractors work quickly and efficiently to resolve your electrical problem.
Brandon Electric is a family owned and operated business servicing the Brandon and Tampa areas for generations. We take pride in being an Angie's List Super Service Award Winner 7 years in a row, receiving an A+ Rating with the Better Business Bureau and having high ratings on Home Service Review and Verified Home Services. Our electrical contractors are available 24 hours a day, seven days a week for emergency services. We happily provide our customers who qualify with financing options for all services.
Brandon Electric is successful because we offer fair pricing without ever sacrificing the quality of work. We also owe our continued success to the numerous word-of-mouth reviews and recommendations from our current customers. Our mission is to provide outstanding service to each of our residential and commercial customers, each and every time they call. We proudly serve Tampa, Apollo Beach, Westchase, South Tampa, Carrollwood and the surrounding cities, so if you are in need of an electrical breakers repair by an electrical contractor, please contact us today to schedule an appointment or receive an estimate.