Electricity Emergency in Central Florida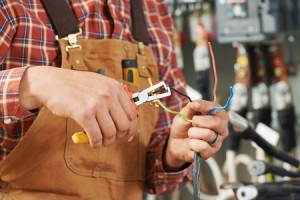 If you are experiencing an electricity emergency, look no further than the experienced and skilled technicians at Brandon Electric. We are licensed, bonded and insured, and we proudly offer 24-7 emergency services for those with emergent electrical needs.
What constitutes an electricity emergency?
Loss of Use of Life-Saving Devices: In this instance, an electricity emergency occurs when a loss of power could mean loss of life. For example, if an at-home or in-facility patient who requires life-saving equipment that runs on electricity were to lose power, that would be an emergency situation.
Smoke or Fire: In instances where smoke or fire is present, it is important to first call your local fire department to check for fire or stop the spread of a fire that is already active. If you see an active flame, leave the premises immediately. Safety is always the top priority in the event of an electrical emergency. Fires often occur in homes and businesses with out-of-date electrical panels and/or faulty wiring. Once the smoke is identified or the fire is contained, schedule a service call with Brandon Electric to assess the damage and provide a repair estimate.
In most other instances, a regularly scheduled electrical service call will be all that is necessary, but when you stop searching the web for "residential electricians near me" and choose Brandon Electric for all of your electrical needs, you will find that your repair or maintenance is completed promptly and to your exact specifications regardless of your particular situation.
We offer a wide range of residential and commercial electrical services such as meter cans and banks, surge protection, emergency power, new wiring, rewires, solar power, breaker repairs and replacements, light and ceiling fan installations, spa hookups, landscape lighting, and much more.
We gladly serve Tampa, Carrollwood, Wesley Chapel, Lutz, Land O Lakes and the surrounding areas, so if you are suffering from an active electricity emergency, stop searching online for "residential electricians near me" and contact the experienced electricians at Brandon Electric today.