Electrical Wiring In Tampa & Surrounding Areas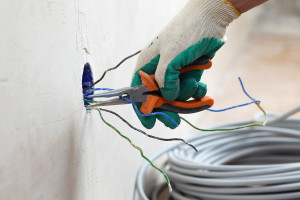 Many people don't realize that the electrical wiring and components of your homes electrical system can deteriorate over time. This is especially true in the Florida heat. That is why hiring a top electrician, for preventative maintenance on your home's electrical systems, can be a good idea.
Many breaker boxes, for example, are located in garages that are not cooled or heated. That heat can negatively affect plastic components in the breaker box. Adding to the breakdown is the fact that systems that use a lot of power like HVAC units can heat up circuit breakers when turned on. They will cool when the unit is not running and this constant heating/cooling can also cause deterioration.
At Brandon Electric, we offer a full range of electrical services, including wiring and systems checks. We have same day service and have 24/7 emergency service available. We can perform small jobs like installing ceiling fans and we can install complete electrical wiring systems in homes and businesses.
You can trust the professionals at Brandon Electric, Tampa's top electrician.
Family owned and operated
Serving the Tampa area for over 20 years
Angie's List Super Service Award Winner
Five Star rating from Home Services Review
If you haven't had your electrical wiring, breaker box and home electrical systems checked in the last few years,
contact Brandon Electric. We offer up-front pricing. No job is too big or too small. We absolutely guarantee your satisfaction. Get the peace of mind you need from the area's top electrician, Brandon Electric.