Commercial Electricians Serving Tampa & Nearby Regions
Commercial electricians have unique training, experience, and knowledge that make them especially equipped to handle commercial electrical jobs. Commercial properties often have much different needs than homes and other residential structures, and a commercial electrician will have the skill and expertise to meet the unique challenges a commercial property might present.
Commercial Electricians Have Unique Skills & Insights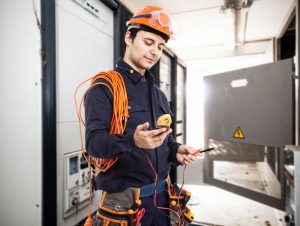 A residential electrician, while skilled, does not necessarily have the experience needed to handle the unique issues that can arise with commercial electrical jobs. A commercial electrician from Brandon Electric, Inc., however, has spent years training and completing commercial jobs of all sizes and will be the perfect partner for any of your commercial electrical needs.
All of our commercial electricians have the industry knowledge and experience to provide our commercial customers with a wide range of electrical services, including the following and more:
We will show up on time for your scheduled appointment and work quickly to get your commercial electrical system operating just as you need it to run.
Commercial Electricians Tampa, FL
At Brandon Electric, Inc., we understand how vital it is to not only have a working electrical system, but that it is as efficient as it needs to be for your business to succeed and flourish. That's why we take the time to consider the best options for you and your business and only use the best equipment, parts, and products for our customers.
We are proud to serve those in Tampa, Clearwater, St. Petersburg, Orlando, Winter Park, and other nearby regions, so if you are looking for experienced commercial electricians near you, contact Brandon Electric, Inc. today. We are certified, licensed, and insured, and we look forward to serving you!