Commercial Electricians for Businesses Across Tampa Bay & Beyond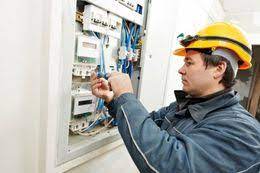 Brandon Electric, Inc. is the company to call when you need commercial electricians to complete electrical work at your commercial property. We have a complete team of commercial electrical contractors and technicians that can offer you business best-in-class electrical services at rates that won't break your quarterly budget. With a full range of commercial services and some of the best rates around, there's no reason to turn to anyone else but Brandon Electric, Inc. Speak to our experts today for more information about any of our services, to request quotes, or to schedule your service. We look forward to serving you!
Call now to speak to our experts!
Top-Rated Commercial Electricians Near You
When you choose a local, family-owned and operated company, you can rest assured that you will receive the service that you need quickly. At Brandon Electric, Inc., we take great pride in our timely response to our customers, and we can quickly dispatch technicians and electricians to your office anywhere in Central Florida. We even offer 24/7 emergency services to better meet your needs and help you keep your business operating smoothly at any time of the day or night.
A Complete Commercial Service Offering for Businesses Across Central Florida
At Brandon Electric, Inc., you can find any electrical service that you might need for your company. We offer complete services and innovative solutions to meet nearly any need, including:
Whatever your commercial electrical needs, Brandon Electric, Inc. is always here to help.
We proudly serve customers throughout Tampa, Orlando, Riverview, Kissimmee, Lake Butler, and beyond. If you are looking for commercial electricians near you, contact us today!