Commercial Electrical Contractors Serving Central Florida Businesses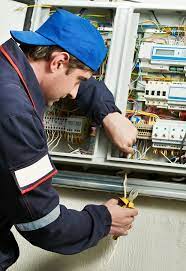 Businesses throughout Central Florida know that they can rely on Brandon Electric, Inc. whenever they need commercial electrical contractors to complete service, repairs, or installations at their commercial properties. We have a team of the area's best electricians and contractors, and we can deliver the innovative energy solutions that your business needs to be a success. Our comprehensive service offering and exceptional pricing is just the icing on the cake when you work with our award-winning team. Speak to our experts today about your electrical system needs to get connected with experienced professionals near you.
Call now to get started!
Hire the Area's Best Commercial Electrical Contractors for Your Business
Your electrical system is one of the most important aspects of your business. Without electricity and energy, most businesses cannot conduct their daily tasks or provide products or services to their customers. It's vital to the success of any business that they have a safe and efficient electrical system to help them improve their operations and make the most of their company.
At Brandon Electric, Inc., we are proud to offer a full range of commercial electrical services, including the following and more:
Whether you are building out a new commercial interior or need additional outlets in one or more offices, our experts can help. Request service today!
Brandon Electric, Inc. is a family owned and operated business that has hundreds of satisfied customers in Tampa, Orlando, Riverview, Kissimmee, Lake Butler, and beyond. If you are looking for commercial electrical contractors near you, contact our experts today to get connected with local technicians who will provide you with the best service at exceptional rates. We look forward to serving you!