Installing a Light Switch in Tampa, Carrollwood, Land O' Lakes & Surrounding Cities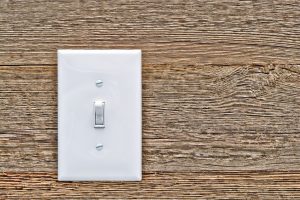 Installing a light switch in your home or business can be dangerous if you are not a licensed electrician with the knowledge and skills needed to completed the job without injury. Luckily, Brandon Electric is a full-service company that provides nearly any electrical service you could need - big or small. Whether you want to learn more about installing a light switch or rewiring a house, we can help.
Installing a Light Switch
Turn Off Power - Before you begin to install a new light switch, it is imperative to ensure that the electricity to the wiring that you will be working with is turned off. You will want to locate the breaker and shut off the fuse that is supplying electricity to that region of your home or commercial space. It is also important to use a voltage tester at the site to be sure that you have eliminated power from the appropriate wiring. Failure to complete these steps could lead to electrocution, serious injury, and even death.
Replace / Install the New Switch - Next, you will need to remove the old switch or prepare the wall for a new switch by cutting into the drywall at the desired location. You will then need to loop the circuit wires around the switch screws and mount the switch in the upright position. How you loop the circuit wires will depend on the type of switch that you are installing and what kind of screws it uses (terminal, etc.). Finally, you will need to screw the faceplate to the wall to complete your installation.
At Brandon Electric, we make it affordable to hire a local, licensed electrician to install light switches and ceiling fans, set up emergency power and generators, complete spa hook-ups, and much more. We have been serving the needs of Central Florida home and business owners for decades, and we look forward to providing you with the top-quality service that you deserve whether you are rewiring a house or business or simply need a new fan installed.
If you own a home or business in Tampa, Carrollwood, Seffner, Citrus Park, Land O' Lakes or the surrounding cities and are interested in hiring an electrician with the experience and tools to complete your home or commercial electrical repairs, contact Brandon Electric today for more information or to schedule an appointment. Whether we are installing a light switch at your home or office or providing you with a quote for rewiring a house or business, you will always receive prompt, friendly and reliable service and affordable rates.