Electrical Panel in Tampa & Neighboring Cities
Your electrical panel is the "motherboard" of your electrical system, and as such, it needs to be aligned with your power demands. A panel that is overloaded or extremely outdated won't perform as needed and, worse, can be dangerous for your family or business. 
Brandon Electric, Inc. specializes in electrical panel upgrades, replacements, and installations, and we can help you determine if you need to update your system, expand your power capabilities, or simply schedule a quick electrical maintenance service. 
Your Electrical Panel Must Meet or Exceed Your Property's Power Demands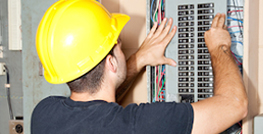 Too often, we see families add new rooms onto their homes and businesses increase their electrical demands without first checking to ensure that their existing electrical panel can handle the new workload. Unfortunately, many underqualified technicians will simply wire the new equipment or additional wiring to the existing panel without considering if that panel can handle the additional stress. 
At Brandon Electric, Inc., we know if you need to consider a panel upgrade before completing your electrical additions, and we will ensure that your system can meet your power requirements. We can also provide installation options for those building new properties or inspections and replacements for those purchasing older homes and businesses. Whatever your case, we will always provide you with a detailed and thorough explanation of any recommendations that we might make and offer you a complete quote so that you never face hidden charges or fees along the way. 
For Top-Quality Electrical Service, Inspections, Repairs & Installations, Choose Brandon Electric, Inc.
In addition to electrical panel service, repair, and installation, we also offer our residential and commercial customers a broad range of other services, including the following and more:
If you need electrical panel service, repair, or installation, or have any other electrical needs in Tampa, Orlando, Lutz, Lakeland, Apollo Beach, or beyond, we are the experts to trust. Contact Brandon Electric, Inc. today for more information or to schedule electrical maintenance service, repairs, installations, and more.