Electric Repair Services in Central Florida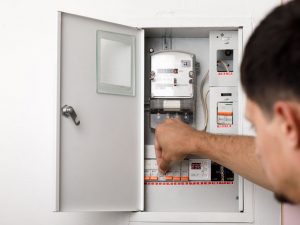 At Brandon Electric, Inc., you will find experienced professionals who can complete any and all residential or commercial electric repair services that you might need. We are Central Florida's preferred licensed electrical contractors, and we look forward to ensuring that you are Powered to Perform.
Call today to request service!
Residential & Commercial Electric Repair Services
The team at Brandon Electric, Inc. can handle any electrical repair you might require at your home or office. We are fully licensed and insured, and our experienced and skilled technicians will work quickly to provide you with best-in-class repairs and service.
We utilize advanced troubleshooting techniques to diagnose system issues and fully inspect your electrical system prior to making repair or service recommendations. And, whatever your system needs, we are prepared with the tools, parts, and equipment to repair it the very same day.
Are you suffering from tripping breakers, bad circuits, faulty wiring, or any other common electrical problems? Let Brandon Electric, Inc. help.
A Full Range of Service Options for Central Florida Customers
In addition to electrical system repairs, we also offer a complete range of installation and maintenance services, including lights and ceiling fans, circuits, outlets and switches, electric panels and breakers, service upgrades and meter cans, rewires and wire replacements, commercial wiring, emergency power and generators, spa hook-ups, LED lighting conversions, landscape lighting and signage, and so much more.
Our company is family-owned and operated, and we look forward to providing you and your family or business with all of the electrical services that you could need. If you are looking for electric repair services from a reputable company with a proven track record of customer satisfaction - or have any other electrical system needs - contact us today to speak to our team!