Electric Repair Service in Tampa Bay & Surrounding Areas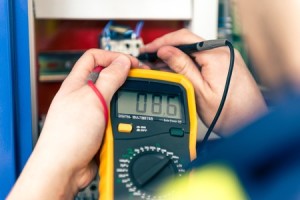 Brandon Electric is the Tampa Bay Area's number one electric repair service company for those seeking high-quality craftsmanship and superior customer service. Whether you are searching for a residential or commercial electrical company to handle electrical installations, diagnosis, updates, or repairs, look no further than our team at Brandon Electric. Our highly-trained electricians specialize in jobs ranging from scheduled home electrical wiring to emergency circuit breaker panel repairs and more.
At Brandon Electric, our team's diverse skillset and specialties allow us to provide around the clock, 24-hour residential and commercial electrical service to the communities in which we serve. Our home and business electric repair service offerings include, but are not limited to:
When it comes to residential or commercial electrical wiring, there are a few major indicators that will alert you when it is time to contact a trusted electrician. If you've noticed hot outlets, breakers tripping, or have loud, odor-producing outlets in your home or business, you may need to have a professional electrical company inspect your home or business' current electrical wiring. These issues are often signs that you need to rewire your home. Fortunately, our team at Brandon Electric can easily and expertly address issues such as wiring and other repairs, installation, maintenance, and troubleshooting work with the utmost commitment to craftsmanship and customer service.
Schedule Your Electric Repair Service Today
No matter what your electric repair service needs may be, you can count on our team of experts at Brandon Electric to provide top-notch electrical service for your home or business. We proudly offer around-the-clock electrical repair services to those throughout Wesley Chapel, Land O' Lakes, Lake Fern, Oldsmar, Bloomingdales, and the surrounding areas. Contact us today to schedule your appointment or request an emergency repair visit from one of our expert electricians.