Circuit Breaker Repair & Replacement in Orlando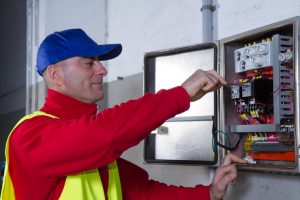 Your circuit breaker and electrical panel must be equipped to handle the power load of your home or business. Oftentimes, home and business owners unknowingly overload their circuit breakers and panels causing damage and even total breakdowns. Brandon Electric, Inc. can quickly provide circuit breaker repair or replace your breakers and panels to get you back up and running in no time.
Call now to speak to our team!
Circuit Breaker Repair & Replacement Services from Licensed Professionals
Larger electrical jobs, such as circuit breaker repairs and replacements, should always be handled by licensed and certified professionals. The technicians at Brandon Electric, Inc. are licensed, certified, and insured, and they have the skill and experience to get the job done right.
Signs that you need a breaker repair or replacement include:
Tripping Breaker
Burning Smell in the Panel
Loss of Power from the Circuit
Breaker Won't Reset
Outdated Panel
If your breakers keep tripping or are emitting a smoke-like odor, chances are your circuit is overloaded and needs some upgrades or a repair or replacement. At Brandon Electric, Inc., we can repair and replace residential and commercial circuit breakers to hep ensure that your home and business are always Powered to Perform.
Request service today to have your circuit breaker inspected and repaired.
Additional Residential & Commercial Services Available
In addition to breaker repairs and replacements, we are also proud to offer all of the other residential and commercial electrical services that your family and business needs, including electrical outlet repair, circuits and switches, lights and ceiling fans, spa hook-ups, LED lighting conversions, landscape lighting, and more.
We gladly serve customers in Orlando, Lake Buena Vista, Winter Garden, Winter Park, Riverview, and beyond, so if you need circuit breaker repair or have any other electrical service needs at your home or business, contact us today!