Circuit Breaker Panel Repair in Orlando & Throughout Central Florida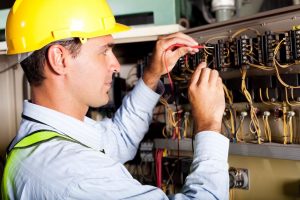 If your breaker is constantly tripping or not resetting, you may need a circuit breaker panel repair, upgrade, or replacement. The first step in determining how to fix your electrical system is to call a licensed, certified electrician who can diagnose the issue and provide you with recommendations on how to best complete the repairs. In many cases, a simple panel repair or upgrade will do the trick, while other times, you are better served with a complete panel replacement. At Brandon Electric, we have technicians on staff who can quickly diagnose and repair a wide range of circuit breaker issues, and our team is available 24 hours a day, 7 days a week!
As Central Florida's leading 24 hour electrician, more Florida families and businesses rely on us to handle all of their electrical repair, maintenance, and installation needs. For over 20 years, we have provide residential and commercial electrical services, and our team has completed more circuit breaker panel repair services than any of the area's other leading electricians.
Circuit Breaker Panel Repairs, Upgrades, Replacements & Installations
Before replacing a breaker, your Brandon Electric technician will check ensure that the amps are within the limits for each circuit, and they will turn off all light switches, fans, and power cords to ensure that the issue isn't originating outside of the electrical system. They will perform a wide range of tests to determine if you simply have a bad breaker, a short in the line, or an overloaded circuit. In the first two instances, your 24 hour electrician will normally be able to complete repairs on the spot. If, however, your circuit is overloaded, you may need to consider a new circuit breaker panel installation to get your home or business up-to-code and operating at the peak levels you need it to.
Brandon Electric is also proud to offer a wide range of other electrical services, including rewires and replacements, commercial wiring, emergency power and generators, and more! If you are interested in scheduling a circuit breaker panel repair for your home or office in Orlando, Winter Park, Clermont, Kissimmee, Lakeland, or other cities throughout Central Florida or have any other electrical needs, contact the experts at Brandon Electric today. We have a 24 hour electrician standing by ready to serve you!