Driveway Lights in Orlando FL
There is no job too big or small for the team at Brandon Electric, Inc. From wiring an entire home or business to installing driveway lights, our highly experienced and trained electricians can handle it all.
Increase Your Property Value – and Safety – with Driveway Lights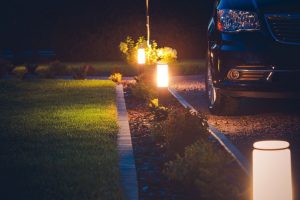 Driveway lights can add value, safety, and security to any residential or commercial property, and having lights at the entrance of your home or business can help family, employees, and guests travel safely to and from their vehicles after hours. Better still, additional exterior lighting often discourages loitering and other criminal activity.
And, by adding lights now, you will be adding value to your home or commercial space when you are ready to sell. Well-lit properties tend to be viewed as safer, which means they will sometimes gain more dollars per square foot when compared with properties with no exterior lighting. Additionally, keeping your property well-lit in the evenings allows potential buyers to see the exterior of the property even when they can't make it out to tour the property during the day.
Brandon Electric, Inc. specializes in exterior lighting for driveways and parking lots. We are the residential and commercial electrical contractors that home and business owners throughout Central Florida rely on for all of their electrical service needs. 
Our full service offering includes:
Whatever your electrical needs, Brandon Electric, Inc. is the team to call! 
If you are considering adding driveway lights to your property in Orlando, Lake Buena Vista, Winter Garden, Winter Park, Riverview, or the surrounding regions or need residential or commercial electrical contractors for any of your other electrical needs, contact Brandon Electric, Inc. today. We look forward to serving you!