Rewiring a House in Tampa, Carrollwood, Seffner, Citrus Park & Beyond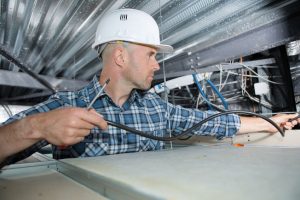 If you are rewiring a house or business, look no further than Brandon Electric. We are the electricians that more Central Florida property owners turn to for top-quality rewiring services at affordable rates. For decades, we have been serving the residential and commercial electrical needs of thousands of Floridians, and our dedicated staff looks forward to serving you!
Rewiring a House or Commercial Property
Not all properties require a full rewire. In some instances, only certain areas of the property need to be upgraded, and a partial rewire will suffice. Other times, it takes a complete rewire to get a property up-to-code or operating efficiently for your family or company's needs. Our licensed, insured, and highly-experienced electricians will diagnose the condition of your current system, provide best recommendations on service upgrades, offer affordable quotes for necessary services, and complete repairs and replacements as quickly as possible - while never sacrificing the quality of their work.
Electrical Panel Upgrade
Oftentimes, property owners believe that they need to start rewiring a house or business when a simple electrical panel upgrade will provide the desired results. The electricians at Brandon Electric have vast experience upgrading and installing electric panels and breakers for homes and businesses of all sizes, and our experts can help you decide what panel, circuit or breaker is right for you.
Additional Services
In addition to the complex installations described above, Brandon Electric also provides a broad range of other comprehensive electrical services including light and ceiling fan installation, security lighting, parking lot lighting, signage, meter cans, landscape lighting, and so much more. We are highly-rated on Home Service Review and Verified Home Services, and we take great pride in offering our customers top-quality service at affordable rates.
If you are considering rewiring a house or business in  Tampa, Carrollwood, Seffner, Citrus Park, Land O' Lakes or elsewhere throughout Central Florida or have any other electrical needs, contact the experts at Brandon Electric today for more information or to request quotes.