Electrician Near Orlando & Surrounding Regions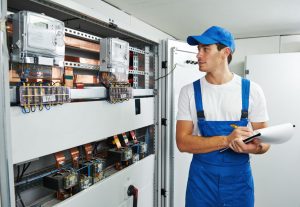 Brandon Electric is the #1 company to turn to when you are looking for a residential or commercial electrician near you to diagnose, repair, maintain, or install your electrical system. Our electrical contractors have vast experience and are highly skilled at performing a wide range of services to home and business owners throughout Central Florida. Licensed, insured, and certified, our team will show up on time - every time - and be equipped with all of the tools and equipment needed to perform most electrical repairs, service requests, and installations.
Top-Rated Electrician - Serving Central Florida for Nearly 30 Years
We are one of the highest-rated companies throughout the state, because we offer our customers superior workmanship, unparalleled customer service, flexible scheduling, and affordable rates. We strive to provide customers with the highest levels of service, and every job we complete is 100% satisfaction guaranteed.
Our electrical contractors can perform nearly any electrical service, repair, or installation you could need, including both residential and commercial services. A Brandon Electric electrician can complete all of the following and more:
When you work with an electrician from Brandon Electric, you can rest easy knowing that your electrician is highly-qualified, professional, and experienced. He or she will work quickly to ensure that you are back up and running as soon as possible, and your electrician will never leave your property in disarray upon completion of your project. Your electrician will also provide you with upfront pricing (no hidden fees) and provide you with expert advice on energy-saving options for your home or business.
If you own a home or business in Orlando, Winter Park, Lake Buena Vista, Lake Butler, Winter Garden, or the surrounding regions and are looking for an electrician near you to perform any job - large or small - contact the expert electrical contractors at Brandon Electric today. We look forward to serving you!