Electrical Inspection Throughout Central Florida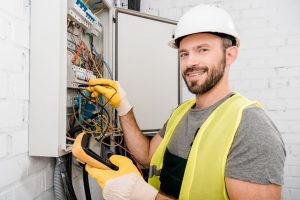 An electrical inspection is a thorough checkup of the electrical wiring and connections in your home. There are several reasons why you may need an inspection and specific times when it is necessary to have one.
When You Should Schedule an Electrical Inspection
Even though an electrical inspection is important, you likely won't have to have them performed all that often. There are, however, some instances when you should schedule one:
When you notice any persistent electrical problems
If you are preparing for a full-scale renovation
Before you reconfigure appliances or lighting
Before you buy a home
Before you list your home for sale
If you notice an unresponsive switch or a dead outlet
Once your home is 40 years old
When you may be required by your homeowner's insurance policy
When you need to add a new home appliance
What to expect during an electrical inspection?
Once you determine you need an inspection, you can schedule one with an electrical technician at Brandon Electric. If you have noticed signs that could be potentially dangerous, such as singed sockets, then let your electrical technician know during the first call. In an emergency, some technicians will want to schedule your inspection sooner. Your Brandon Electric electrical technician will give you an estimated arrival time, and your inspection can take anywhere from 30 minutes to two hours, depending on the condition of your home and the size. During the inspection, the contractor will follow a checklist to make sure electrical systems are up to date with local safety codes. Once the inspection is done, the technician will give you a written report. The report may include a list of needed repairs, a summary of the inspection, and any recommendations for improving energy efficiency. In an official setting, such as selling your home, the report will serve as proof that the inspection was completed. If your home or business needs repairs, you will be able to schedule those with a technician at Brandon Electric to ensure they are fixed as soon as possible.
If you need a residential or commercial electrical inspection, contact Brandon Electric today. We serve Tampa, Clearwater, St. Petersburg, Orland, Winter Park, and cities throughout Central Florida.