Electrical Fuse in
Central Florida & Surrounding Regions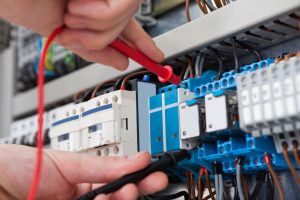 If you are having consistent issues with blowing an electrical fuse, your electrical system may be to blame. Sadly, older electrical systems aren't always capable of supporting more modern appliances and can't always step up to the needs of the modern family. At Brandon Electric, we can help determine why you continue to blow an electrical fuse and decide on the best course of action to correct the issue going forward - whether that be a partial or complete rewire, an electric panel and breaker replacement, added circuits, outlets and switches, or any other electrical need.
Common Causes for Electrical Fuse Shortages
Circuit Overload - The most common reason for fuse shortages is an overloaded circuit. This means that the circuit is pulling more power than it is meant to accommodate, begins to overheat, and "trips" the circuit, oftentimes blowing the fuse in the process. Rather than a complete rewire, our electricians may be able to simply add additional circuits to your electrical panel. If no more circuits are available, or your panel is unable to handle the added power demands, you may require a panel or breaker replacement or a partial or complete home rewire.
Short Circuit - More difficult to diagnose, a short circuit could be another reason you are blowing an electrical fuse. Most often, this is the result of a hot wire (black) touching a neutral wire (white) at some point throughout your system. Short circuits are dangerous and can lead to fires and property damage, so it's important to get short circuits diagnosed and repaired quickly to avoid major issues down the road. A rewire will normally not be required.
Ground Fault - Also a bit more complex to diagnose, a ground fault is the result of a hot wire touching a ground wire or metal wall box. This will cause an immediate increase in electrical flow that will cause your circuit to trip. Especially dangerous in kitchens, bathrooms, laundry rooms, and other high-moisture environments, it is vital to get ground fault issues addressed immediately to prevent fires, injury, and property damage. Ground faults, however, won't often require to rewire services.
If you keep blowing an electrical fuse at your home or business in Tampa, Carrollwood, Seffner, Citrus Park, Land O' Lakes, or the surrounding regions, speak to the experts at Brandon Electric today to schedule a service call. We can quickly diagnose and repair the issue and let you know if a partial or complete rewire might be right for you. Contact us today to get started!