Cost to Rewire a House Central FL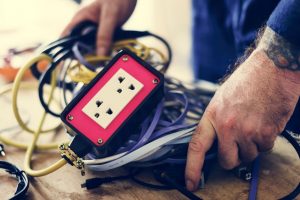 The cost to rewire a house can range due to a number of different factors. Once you start to research the time and labor required as well as the cost of materials, you realize there is more to rewiring than meets the eye.
Factors that will affect the cost to rewire a house include:
The materials used to replace old wiring
The condition and age of the switches, lighting fixtures, and outlets. If they need to be replaced along with new wiring, this can increase costs.
If the wiring can be accessed by cutting through drywall or a crawlspace
The size of the home
Any upgrade that could require additional amps
Any newly added rooms, since these can have different wiring issues
With an electrical rewire, it can be hard to get a complete estimate without an inspection. There are a few things that can add to the home rewire costs. If you have a crawl space that electricians can easily access, the cost will likely decrease. If your home is on a concrete slab where an electrician may need to cut extra holes, you will need to pay to have the drywall repaired. Drywall repair can take a big chunk of your estimate. You also need to consider the cost of the permits and ensure you have the right ones in place before you begin. Permit costs can range depending on the project.
A house rewire is a substantial job, and even if you have already successfully rewired an outlet or completed other minor electrical work, you want to hire residential electricians to do the job. When searching for residential electricians, the electrician's price list should include labor, upgrades including heavy-duty wires, costs to run wire, and materials such as switches and outlets.
Call Now to Find Out the Cost to Rewire a House in Your Neighborhood
If you are interested in determining the how much it will cost to rewire a house or would like to schedule home rewiring services, contact the residential electricians at Brandon Electric. We serve Tampa Clearwater, St. Petersburg, Orland, Winter Park, and other Central Florida cities.