Commercial Electricians in Orlando & Beyond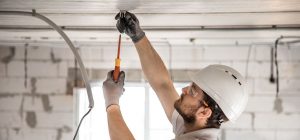 At Brandon Electric, Inc., you can find residential and commercial electricians to serve your home or business nearly anywhere in Central Florida. We are a family-owned and operated company, and our team will always go above and beyond to serve your needs.
Commercial Electricians for Any Job - Big or Small
Our team is ready to serve you anytime - day or night. We offer 24/7 emergency services, and we have the skill, expertise, and equipment required to do the job right. A commercial electrician specializes in installing, maintaining, and repairing commercial electrical equipment, and at Brandon Electric, Inc., we ensure you are powered to perform.
Our commercial electricians can assist with the following and more:
Whatever your needs, we are here to help.
More Information about Brandon Electric, Inc.
Our customers enjoy many benefits by working with us. We are proud to serve all of Hillsborough, Pasco, Pinellas, Hernando, Orange, and Polk Counties, so no matter where they are located, we can be there FAST.
We are also highly rated on Home Service Review, Verified Home Services, and several other review sites to give our customers the peace of mind of knowing their properties are in great hands with us.
Additionally, we always offer upfront pricing so that our customers are never surprised by "hidden fees", and our rates are some of the most affordable and competitive rates around.
If you are looking for commercial electricians near your business in Orlando, Kissimmee, Winter Garden, Winter Park, Lakeland, or elsewhere throughout Central Florida, contact us today for more information or to schedule an appointment or request quotes. We look forward to serving you!