Ceiling Fan Installation in Tampa  & Surrounding Cities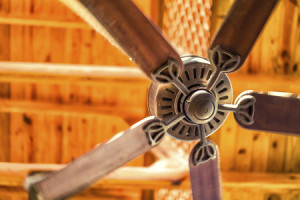 Don't risk falling off a ladder or shocking yourself with a jolt of electricity because you decided to install your new ceiling fan yourself. Instead, trust the professionals at Brandon Electric. We will gladly visit your home or office to provide a ceiling fan installation, light installation or nearly any other electric service you might need.
Brandon Electric is one of the preferred electrical contractors in the Tampa Bay area. We offer our customers exceptional service and support, along with prices that can't be beaten, and there is no job too large or small for our experienced team of professionals.
We provide both residential and commercial electrical services and can expertly install a ceiling fan in your home or office. We are prompt and reliable and will always show up for our appointments on time and are ready to work. Your Brandon Electric technician will work quickly and efficiently to ensure that your fan is safely operating at optimal levels and clean up their workspace prior to leaving your property.
In addition to providing top-rated services, we also have a broader service offering than nearly all of the other local electrical contractors. We regularly provide customers with the following and more:
Ceiling Fan Installation
Interior & Exterior Lighting
Meter Cans & Banks
Parking Lot Lighting
Solar Power
Emergency Power
Surge Protection
Security Lighting
Complete Residential & Commercial Wiring
and Much More!
Ceiling Fan Installation Tampa, FL
If you own a home or business and are on the hunt for electrical contractors in Tampa, South Tampa, Temple Terrace, Pebble Creek, Carrollwood or the surrounding cities, contact us today and schedule an appointment for a ceiling fan installation or any of our other highly rated electrical maintenance and repair services. At Brandon Electric, your satisfaction is guaranteed, and we strive to provide each customer with the top quality service and support they deserve from an electrical contractor.